DIN934 Stainless Steel Hex Nut, Flange Nut, Heavy Hex Nut, Hex Cap Nut, Round Nut, Slotted Nut, Square Nut Lock Nut Cage Nut T Slot Nut.
Hexagon nuts are the most widely used. Our products are produced strictly according to DIN934 standard number, with no burr in appearance and authentic material. There are also special anti-lock nuts. It is safer and more efficient to work with anti-lock nuts, thus creating greater benefits.
Our company has complete standing nut specifications and sufficient inventory, which can be shipped in 2-3 days. It is hoped that our customers will buy it quickly.
| | |
| --- | --- |
| Name | Stainless steel hexagon nut |
| | ISO, JIS, GB, ANSI , DIN or non standard as customize |
| Size | M3-M20 |
| Surface treatment | Stainless steel, silver |
| Material | sus304,susu316,A2,A4 |
| Package | Carton package with the inner polybag pack and stripe pack on the surface |
| Payment Term | TT ,LC,DA,DP |
| Delivery | 3-15 Days |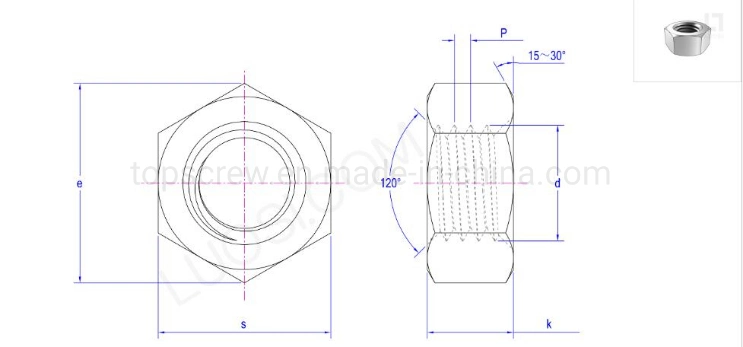 | | | | | | | | | | | | | | | | |
| --- | --- | --- | --- | --- | --- | --- | --- | --- | --- | --- | --- | --- | --- | --- | --- |
| Mon | M3 | M4 | M5 | M6 | M8 | M10 | M12 | M14 | M16 | M18 | M20 | M22 | M24 | M27 | M30 |
| P | 0.5 | 0.7 | 0.8 | 1 | 1.25 | 1.5 | 1.75 | 2 | 2 | 2.5 | 2.5 | 2.5 | 3 | 3 | 3.5 |
| e min | 6.01 | 7.66 | 8.79 | 11.05 | 14.38 | 18.9 | 21.1 | 24.49 | 26.75 | 29.56 | 32.95 | 35.03 | 39.55 | 45.2 | 50.85 |
| k max | 2.4 | 3.2 | 4 | 5 | 6.5 | 8 | 10 | 11 | 13 | 15 | 16 | 18 | 19 | 22 | 24 |
| k min | 2.15 | 2.9 | 3.7 | 4.7 | 6.14 | 7.64 | 9.64 | 10.3 | 12.3 | 14.3 | 14.9 | 16.9 | 17.7 | 20.7 | 22.7 |
| s max | 5.5 | 7 | 8 | 10 | 13 | 17 | 19 | 22 | 24 | 27 | 30 | 32 | 36 | 41 | 46 |
| s min | 5.32 | 6.78 | 7.78 | 9.78 | 12.73 | 16.73 | 18.67 | 21.67 | 23.67 | 26.16 | 29.16 | 31 | 35 | 40 | 45 |