Drop Forged DIN 580 Lifting Eye Bolt with Metric Thread
Specifications
1.

Material:

Carbon Steel C15, and C15E, Stainless steel A2 and A4,1045, Q235
2.

Size: M

6 - M100
3.

Surface:

Zinc Plated, Hot Dip Galvanized
4.

Working Load:

0.08 Ton - 40 Ton
5.

Color:

Self Colored, Silver or other
6.

Technology:

Drop forged
7.

Certificates:

BV, ISO9001:2008 SGS, CE
8.

Brand:

Powerful Machinery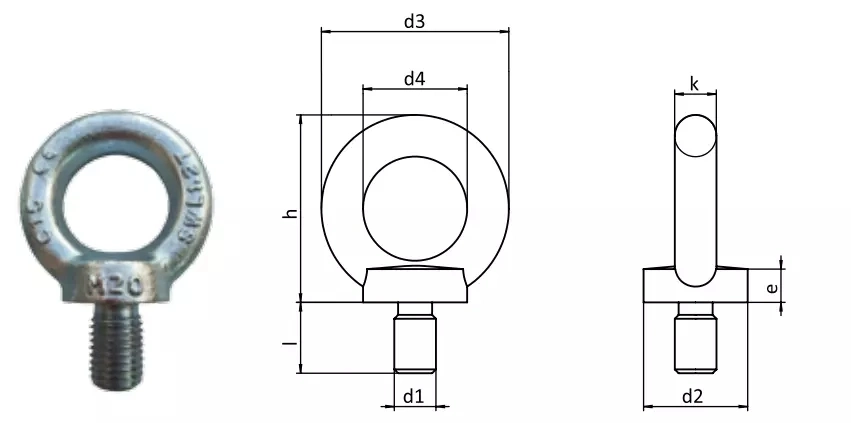 | | | | | | | | | | |
| --- | --- | --- | --- | --- | --- | --- | --- | --- | --- |
| SIZE | d2 | d3 | d4 | e | h | k | l | WEIGHT | WLL |
| d1 | MM | MM | MM | MM | MM | MM | MM | KG/PC | TON |
| M6 | 20 | 36 | 20 | 6 | 36 | 8 | 13 | 0.06 | 0.08 |
| M8 | 20 | 36 | 20 | 6 | 36 | 8 | 13 | 0.06 | 0.14 |
| M10 | 25 | 45 | 25 | 8 | 45 | 10 | 17 | 0.11 | 0.23 |
| M12 | 30 | 54 | 30 | 10 | 53 | 12 | 20.5 | 0.18 | 0.34 |
| M14 | 35 | 63 | 35 | 12 | 62 | 14 | 27 | 0.28 | 0.34 |
| M16 | 35 | 63 | 35 | 12 | 62 | 14 | 27 | 0.28 | 0.7 |
| M18 | 40 | 72 | 40 | 14 | 71 | 16 | 30 | 0.45 | 0.7 |
| M20 | 40 | 72 | 40 | 14 | 71 | 16 | 30 | 0.45 | 1.2 |
| M22 | 50 | 90 | 50 | 18 | 90 | 20 | 36 | 0.87 | 1.2 |
| M24 | 50 | 90 | 50 | 18 | 90 | 20 | 36 | 0.87 | 1.8 |
| M27 | 65 | 108 | 60 | 22 | 109 | 24 | 45 | 1.66 | 1.8 |
| M30 | 65 | 108 | 60 | 22 | 109 | 24 | 45 | 1.66 | 3.2 |
| M33 | 75 | 126 | 70 | 26 | 128 | 28 | 54 | 2.65 | 3.2 |
| M36 | 75 | 126 | 70 | 26 | 128 | 28 | 54 | 2.65 | 4.6 |
| M39 | 85 | 144 | 80 | 30 | 147 | 32 | 63 | 4.03 | 4.6 |
| M42 | 85 | 144 | 80 | 30 | 147 | 32 | 63 | 4.03 | 6.3 |
| M45 | 100 | 166 | 90 | 35 | 168 | 38 | 68 | 6.38 | 6.3 |
| M48 | 100 | 166 | 90 | 35 | 168 | 38 | 68 | 6.38 | 8.6 |
| M52 | 110 | 184 | 100 | 38 | 187 | 42 | 78 | 8.8 | 8.6 |
| M56 | 110 | 184 | 100 | 38 | 187 | 42 | 78 | 8.8 | 11.5 |
| M64 | 120 | 206 | 110 | 42 | 208 | 48 | 90 | 12.4 | 16 |
| M72X6 | 150 | 260 | 140 | 50 | 260 | 60 | 100 | 23.3 | 20 |
| M80X6 | 170 | 296 | 160 | 55 | 298 | 68 | 112 | 34.2 | 28 |
| M100X6 | 190 | 330 | 180 | 60 | 330 | 75 | 130 | 49.1 | 40 |
Related Products
Eye Bolt DIN580, Eye Nut DIN582, BS4278 Collared Eye Bolt, BS529 Collared Eye Bolt, JIS B 1168 Eye Bolt, JIS B 1169 Eye Nut,
G291 Drop Forged Eye Bolt, G80 Lifting Screw Point, Rectangular Base Eye Plates, etc.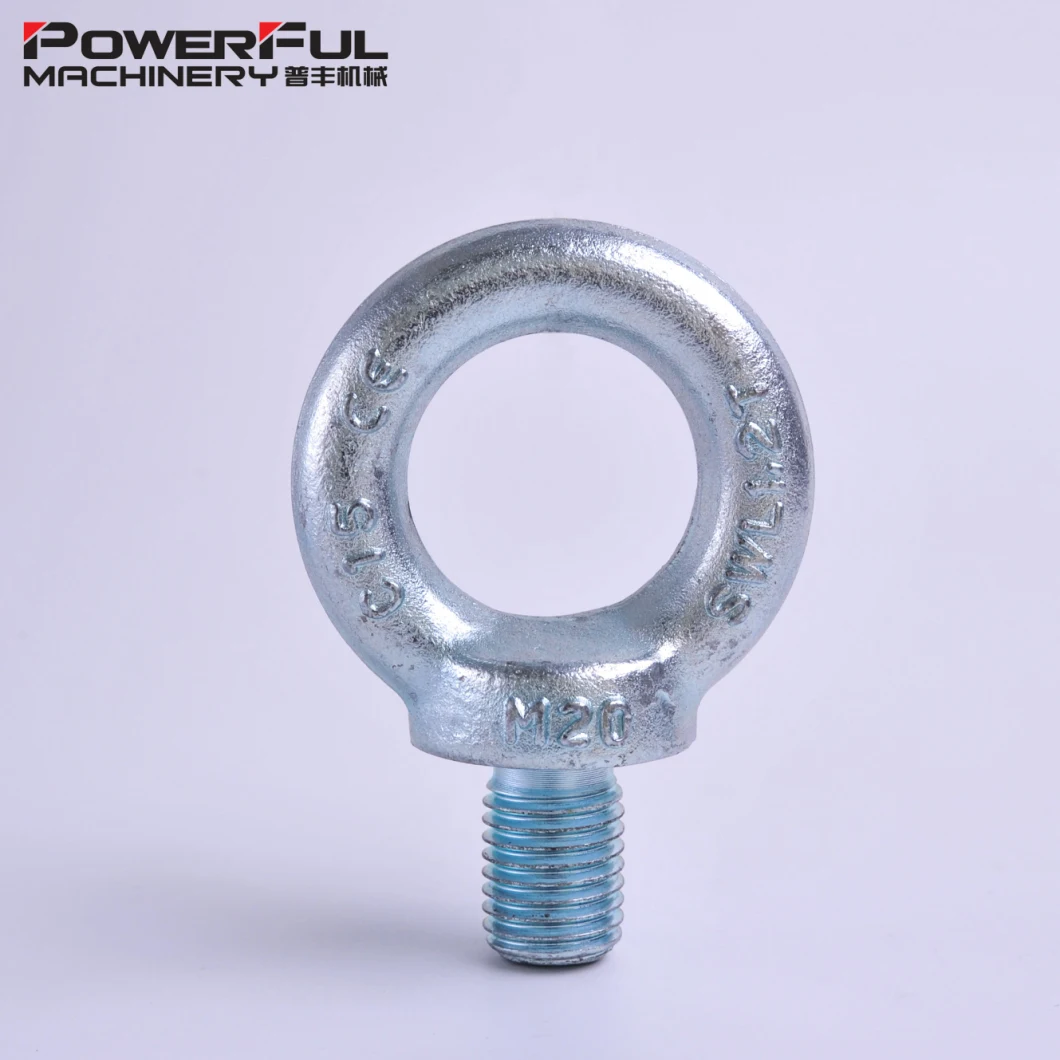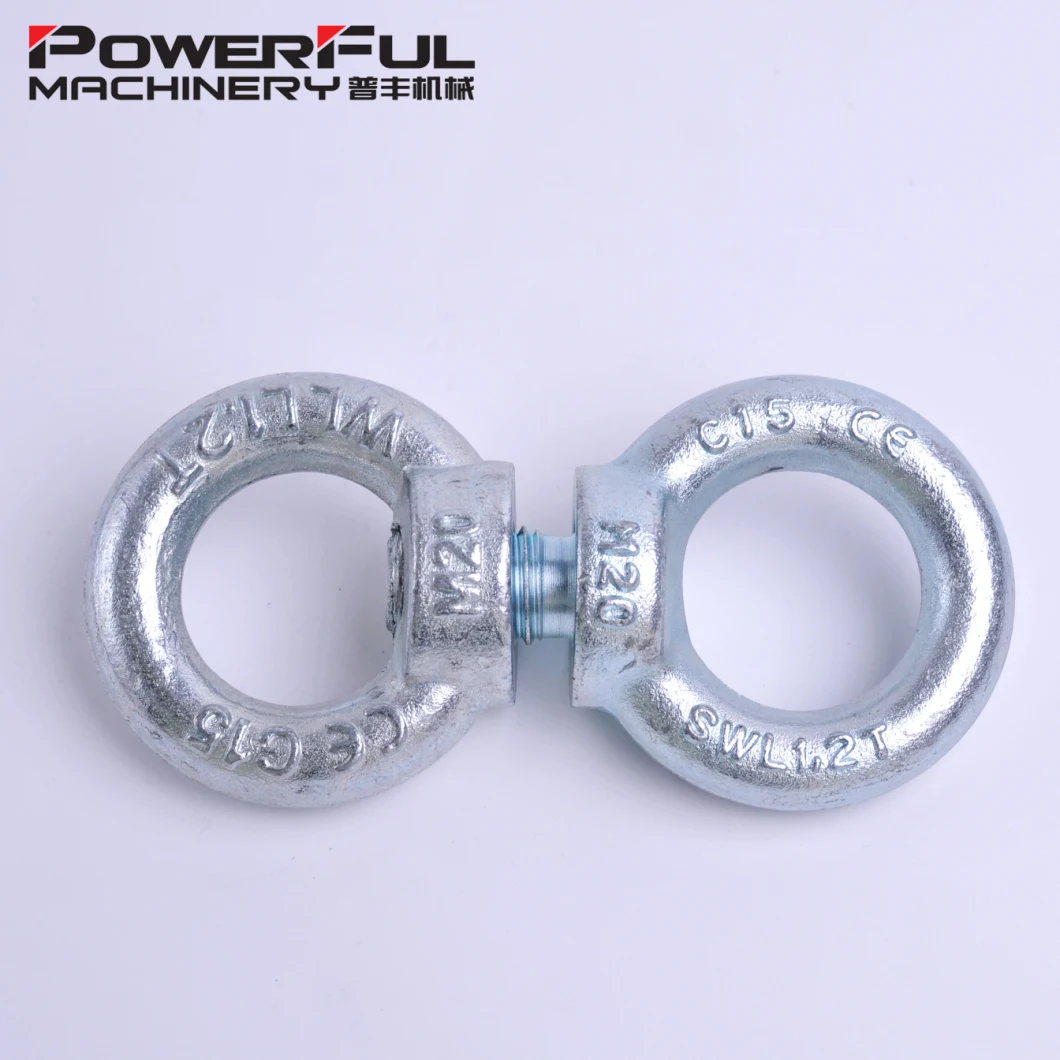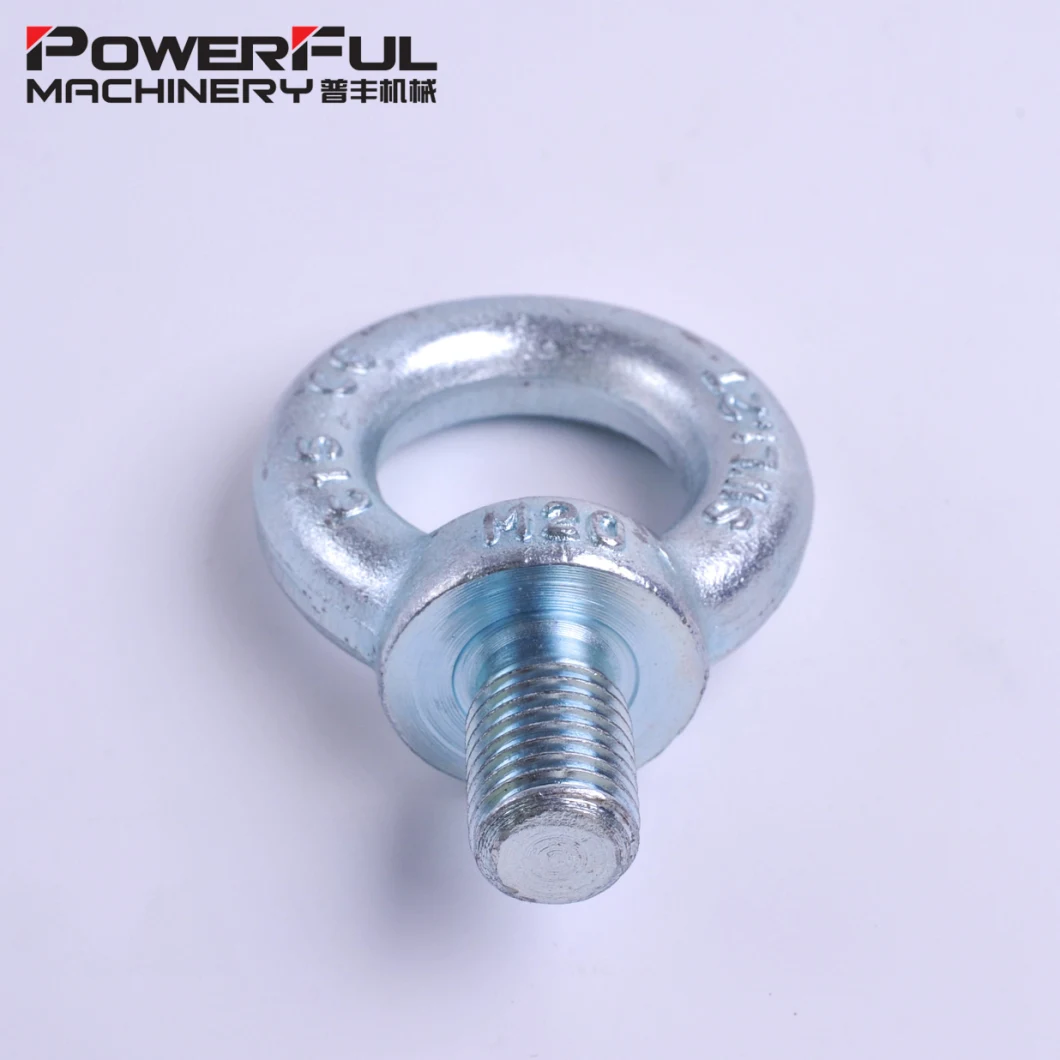 Packaging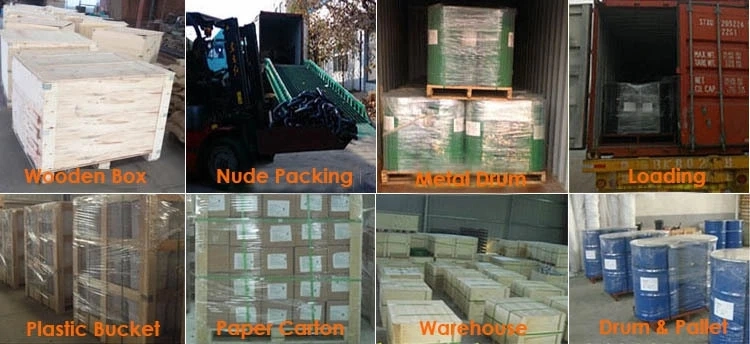 Hot Sale Products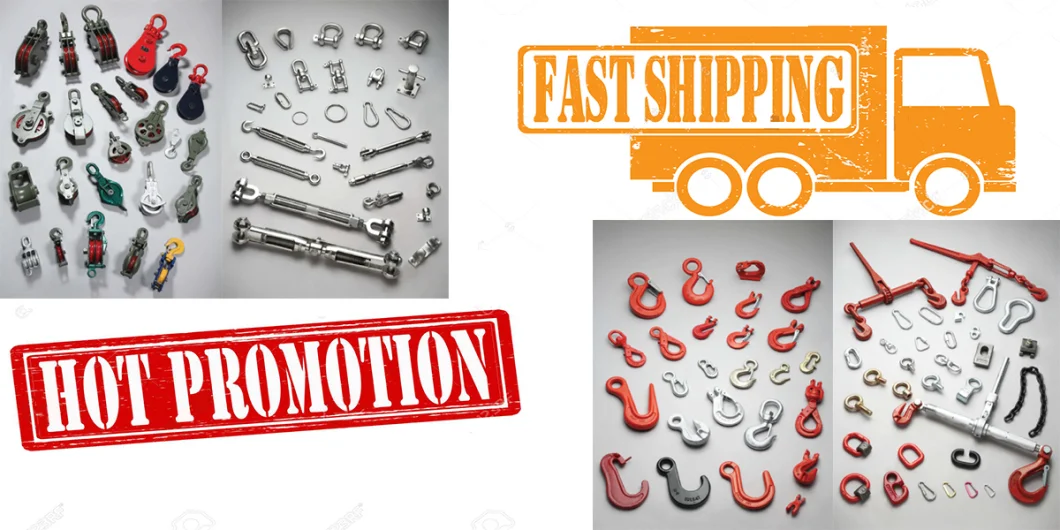 Our most popular products include

Chains, Anchor Chains, Hooks, Shackles, Turnbuckles, Load Binders, Eye Bolts & Eye Nuts, Wire Rope, Wire Rope Clips, Wire Rope Thimble, Swivels, Snap Hook, Rings and links, Webblings, Pulley&Block, Sockets, Stainless Steel Products, etc.
NOTE
*The sizes are various.
*Customized service is available.
*The materials can be high quality Carbon Steel, Alloy Steel, Stainless Steel, Plastic, Polyester Fibre, etc.
Our Factory

We started as an anchor chain factory, Yongxiang Anchor Chain Co. Ltd, about 20 years ago in Qingdao, China, and gradually developed into a big manufacturer of marine hardware supplies. At the same time, in order to meet the growing demands from our clients in various business areas, we established our tradingbrand - Powerful Machinery, and expanded our scope to rigging hardware and fasteners, and also set up solid partnership with other factories.
Now we're proud to say that POWERFUL MACHINERY has ranked as the top supplier on marine & rigging hardware in the northern China!
Our Office

Qingdao Powerful Machinery Co., Ltd has eastablished for about 11 years, we specializing in producing and exporting rigging hardwares, high grade chains, blocks & pulleys, steel wire rope, stainless steel and so on. Our products are all designed, manufactured and assembled under strict quality control. We have a professional QC team to do inspections. And we can offer favorable prices, good quality and one-stop sourcing service. We are all ready for every customer and to be the pioneer is our mission.
All members of our company will be very honored if you contact us. We are looking forward to cooperating with you in the near future!
Exhibitions


Powerful Machinery FAQ
1.Are you a factory or trading company?
We started as an anchor chain factory about 20 years ago and gradually developed into a big manufacturer in marine supplies.At the same time, to meet the growing demands from our clients in new business areas, we expanded our scope to rigging hardware and fasteners, and other related hardware by setting up solid partnership with other factories.Now we're proud to say that POWERFUL has ranked as a top supplier on chains & rigging hardware in China.

2.Where is your factory located?
Our factory is located at #37, Wenhua Road, Jimo, Qingdao City, Shandong Province, China.
You're welcomed to visit us any time for future cooperation.

3.What products do you supply?
As mentioned above, Qingdao Powerful Machinery is capable of supplying:
All kinds of marine supplies, Chains, Rigging hardwares, Fasteners and related hardwares

4.Do you produce them all?
We produce all kinds of chains in our factory, other products in our partner factories.By establishing cooperation agreements & capital injection, we obtained a wide & solid supply chain to meet your demands.

5.How do you control quality?
By setting up quality control points and inspecting at each production process with strict standards, the defective products will be eliminated before packaging and delivery.For partner factories, we use a comprehensive system of quality standards to evaluate the production line.Also our professional QC team will implement the onsite check and finish product check before delivery.

6.Why are you more trustworthy than the other factories?
Quick Response:
We feedback your questions immediately 24 hours a day, 7 days every week.
Competitive Price:
We can provide a more competitive price based on the same quality level by more efficient management in every process.
One-stop Solution:
Just say what you need, and we'll figure out a one-stop solution for your business to save your time and effort.

7.How do I pay?
We accept 30% payment in advance & 70% before shipment for the first cooperation, either by T/T or L/C.

8.How do I receive the goods?
With our professional transport agents, we are capable of delivery products to most ports all over the world.Door-to-door service is also supported.
FOB, C&F, CIF are most commonly used trade terms.
Our Advantages
1. Quick Response:
Reply your inquiry in 24 working hours.
2. Full English Service:
Experienced staff answer all of your questions in professional and fluent English.
3. OEM & ODM:
Customized size, length and design are available.
4. Creative One-Stop Solutions:
Exclusive and unique solution can be provided to our customer by our well-trained and professional engineers.
We Listen, We Learn & We Love our Costumers!

Best Service, Best Quality & Best Price will be offered!